Otoplasty
Abstract
Some people born with big and protruding ear and feeling dissatisfied about their appearance. These people seek a surgery to correct the defection. This surgery is called otoplasty or cosmetic ear surgery.
Introduction
Ear surgery also known as otoplasty, corrects the shape and proportion of ears. Patients who have large, imbalanced and protruding ears, seek otoplasty.
Protruding ears are driven from the anatomical changes, such as:
Removing anti- helical fold
Deepening the ear concha
Combination of these 2 forms
Anti- helical fold
If you pay attention to the ear, will notice and see some folds. If removing these holds, the ear protrudes.
Ear concha
The external era cartilage is called concha.  When the concha be tall, the ear becomes protruding. In this way, Dr. Nadaf assesses your ear anatomy and designs the suitable surgery to correct the asymmetric, imbalanced and large ears.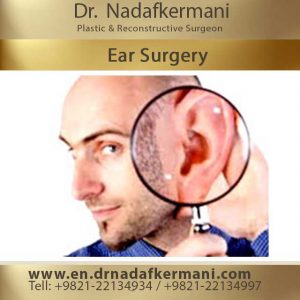 Otoplasty procedure
Otoplasty is done under the local or general anesthesia. Due to the procedures during the surgery, incisions are created behind the ear, in some cases, the incisions creates front the ear and hide in wrinkles.
The procedure depends on the surgeon. The surgeon separates the skin from the cartilage to get the ear cartilage and surgeon performs the needed procedures. The surgeon removes the cartilage to corrects the ear irregularities. Then, he or she assesses the ears at the point of symmetric and closes the incisions by using absorbable or non-absorbable sutures.
Benefits of performing otoplasty
Performing otoplasty:
Removes the ears defections
This surgery is so safe
Patients feel satisfied about their appearance and their self- steam will be increased
The incisions are not visible
otoplasty recovery
To have a better recovery time after ear surgery, the patients should:
Rest at home.
Avoid to lift heavy things, and doing heavy exercises 4 weeks after the surgery.
Don't remove the bandage.
Use some pillows to keep their head up. This one, reduces the swelling.
After otoplasty, patients may feel a little pain, so, Dr. Nadaf prescribes some drugs to reduce the pain 1 week after the surgery.
Dr. Nadaf visits you 5-7 days after the surgery and removes the bandage. After removing the bandage, using the headband is recommended.
Contact Dr. Nadaf, Plastic & Reconstructive Surgeon:
Address 1: Unit 10. Floor 2. Kaj Building. No 1. 9th st. Above Kaj sq. Saadat Abad. Tehran. Iran.
Tell: +9821- 22134934
+9821-22134997
Address 2: Unit 7. Floor 3. Tiam Building. No 18. Next to Hosseini ave. Andarzgoo blvd. Farmanieh. Tehran. Iran.
Tell: +9821-26459573
+9821-26459382