Facelift is a surgical procedure which is used to remove droopy skin, and is a stable procedure. Considering to severity of the drooping and sagging of the skin, various facelift procedures are used. In severe cases, classic lift is used, and slight sagging are removed by mini facelift.
To reach the best and desired result, patients should consider post op cares which described by plastic surgeon. Some of these cares are as follows:
Resting enough after surgery.
Walking slowly, which reduces swelling and blood clotting.
Avoid over activities, such as tense exercises or lifting heavy things.
Putting head up to reduce swelling.
Use prescribed drugs and medications to prevent infection.
Have a proper diet. Eat more liquid food and try not to eat chewy food.
Eat pineapple, which is a good fruit for reduce swelling and bruising.
Avoid to use drugs such as aspirin or other drugs.
Avoid smoking for at least 4 weeks after surgery.
Keep the wound clean.
Take a bath 48 hours after surgery.
Avoid exposure to sunlight.
Make up, 7 days after surgery.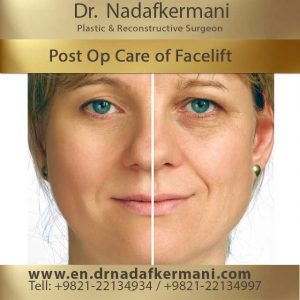 Contact Dr. Majid Nadafkermani, Plastic & Reconstructive Surgeon:
Address 1: Unit 10. Floor 2. Kaj Building. No 1. 9th st. Above Kaj sq. Saadat Abad. Tehran. Iran.
Tell: +9821- 22134934
+9821-22134997
Address 2: Unit 7. Floor 3. Tiam Building. No 18. Next to Hosseini ave. Andarzgoo blvd. Farmanieh. Tehran. Iran.
Tell: +9821-26459573
+9821-26459382