Obesity and over weighting, is a major problem all around the world. Bad and unhealthy diet, consuming fatty foods, and less activity are factors that increase risk of over weighting.
It's better for obese people, to consider a healthy and principle diet, first, and have more activity and exercises. If they don't reach their desired result, can seek to perform surgical procedures and lipomatic surgery.
Today, and for local slimming, surgical procedures are more popular than non- surgical procedures, and most patients are good candidates of such surgeries. To destroy and remove fat tissues, various methods and devices has been designed.
Due too high benefits of lipomatic, this surgery has become popular among patients. This is a safe procedure and removes fat with less damages to the tissues and patients experience a short recovery time.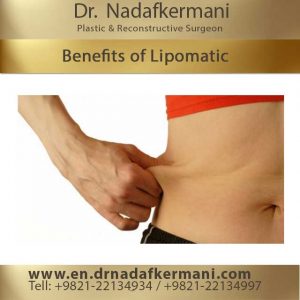 Excess fats disturbs body fitness, but don't worry, lipomatic is an effective procedure with no risk and embolism. In this surgery, excess fats are removed by vibration and rapid movement of a tiny tube (canola). To create this movement and vibration, an air pressure is used, so, no damages enter to surrounding tissues with no burns.
Lipomatic devices has a security system, if canola interferes with a non-fat tissue, it will be stopped. So that, lipomatic is one of the most effective procedures in local slimming.
Due to accuracy and lack tissue damages, extracted fat are used in bulking or prominent of other parts of the body.
Some patients may experience little bruising or swelling, which occurs so rare. There is no need of hospitalization in this surgery.
Contact Dr. Majid Nadafkermani, Plastic & Reconstructive Surgeon:
Address 1: Unit 10. Floor 2. Kaj Building. No 1. 9th st. Above Kaj sq. Saadat Abad. Tehran. Iran.
Tell: +9821- 22134934
+9821-22134997
Address 2: Unit 7. Floor 3. Tiam Building. No 18. Next to Hosseini ave. Andarzgoo blvd. Farmanieh. Tehran. Iran.
Tell: +9821-26459573
+9821-26459382