Breast lift also known as mastopexy, is a common and popular cosmetic surgery among women, special those who have had sagging and drooping breast due to childbearing or breastfeeding, or severe weight loss.
Breast lift changes form of the breast and also increases patient's self- confidence.
Generally, this surgery is recommended for women who:
– Have sagging and drooping breast
– Want to have a bulky breast
– Have long breast and want to have a round breast form
– Have a lower nipple
Breast lift is done with breast augmentation, simultaneously to improve size and form of the breast.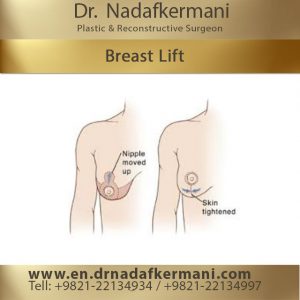 Benefits of a breast lift are as follows:
– Lifting the breast
– Rounding the nipples
– Lifting nipples
– Reducing size of the areolar
It should be noted that, breast lift does not increase the size of your breasts although they may appear larger due to the fact that they are higher and firmer looking. The exception to this is if you have combined this procedure with breast augmentation surgery.
Contact Dr. Majid Nadafkermani, Plastic & Reconstructive Surgeon:
Address 1: Unit 10. Floor 2. Kaj Building. No 1. 9th st. Above Kaj sq. Saadat Abad. Tehran. Iran.
Tell: +9821- 22134934
+9821-22134997
Address 2: Unit 7. Floor 3. Tiam Building. No 18. Next to Hosseini ave. Andarzgoo blvd. Farmanieh. Tehran. Iran.
Tell: +9821-26459573
+9821-26459382